Coins of Olympus - New Slots Game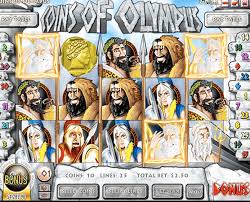 One of the more ambitious and anxiously awaited slots is on display at Play2Win Casino.
Major slots are a major event, and Rival software has gotten everyone's attention with the new slot game, Coins of Olympus. This game has five reels of action, with 25 paylines available for players to enable. If you are not looking for an online slot that is robust, stay away from this one. What's going to happen from the first time your click the "spin" button is non-stop action, and guess what - you don't have to stop at all.
It just be no surprise from the name that the Coins of Olympus slot is one that carries a theme that celebrates the mythology of the ancient days of Greece. Are you a student of Greek lore? If you are you are undoubtedly going to get a kick out of this experience, because you are going to feel right at home; like a "Greek God" of you will.
You'll be introduced into an elaborate world; one that was drenched with luxurious surroundings, and one can only imagine what that time was like. Without question, that was the spirit that Caesars Palace in Las Vegas tried to capture. Everyone is a god or goddess.
And they are in profusion in this game. Obviously the symbols that are used in Coins of Olympus are going to be consistent with the theme. These include Poseidon, the God of the Seas (and what an adventure HE can take you through, so to speak); Aphrodite, the Goddess of Love (do not underestimate her); Ares, who was the God of War; Athena, the Goddess of Wisdom (although we're not sure if she can offer you any slots advice), and Dionysus, the God of Wine (we don't necessarily recommend drinking it during actual slot play).
In addition to that, you'll encounter the likes of Hercules; Hermes, the Herald of the Gods; Hera, the Goddess of Marriage; Hades, who was the God of the Underworld (though not a gangster, per se) and Zeus, the Father of the Gods, who may be the biggest one of all. Needless to say, there is quite a colorful cast of characters among the symbols that are used in this game.
Then there are Silver and Gold coins, and these are important as well, because when they show up they can get you to a free spins round and generate an expanding wild, which can make an entire reel complete with wild symbols, and that opens up all kinds of possibilities.
There is an earthquake scenario as well, and that shakes Mount Olympus, which sends a slew of coins down to the village below. That leads us into talking about the bonus game at Coins of Olympus, in which Hermes attempts to collect the coins with Pegasus.
Rival Gaming has scored a lot of points over the years when it comes to the imagination. After all, they are the originators of the "i-Slot," a unique slot experience that creates storylines and characters and has players vying for a greater objective in safe and secure environments..
Find out for yourself what everybody was waiting for with a USA bonus and try the Coins of Olympus slot game at Play2Win Casino.